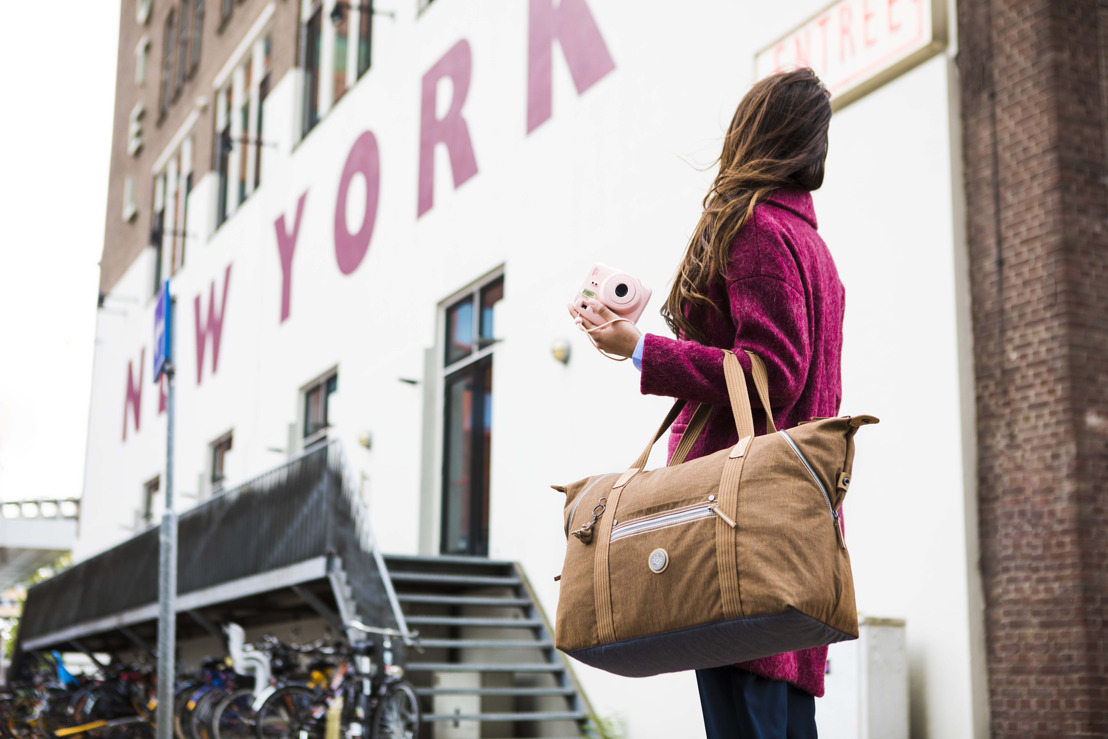 EDGELAND, city vibes
URBAN COLLECTION / Kipling Fall - Winter 2018
Sunday, August 5, 2018 — A Place of Easygoing
Move from casual to more formal situations without a second thought.
Contemporary, urban and unique, the new Edgeland Collection delivers bags with a loved in feel for young people living busy, city lives. Fabricated from a natural spray dyed nylon to create an organically aged look, a process that is both solvent free and ecologically friendly. Strong, durable and water repellent, the fabric will gradually age to create a unique love-worn aesthetic.
The collection caters for all elements of a busy lifestyle, work, leisure and travel. With seven styles available, the Edgeland Collection presents two cross-body shoulder bags, two tote bags, one backpack, one travel bag and one pouch. Exclusively developed colour variations of warm AGED TAN and DARK WOVEN C are offered in each style.
Cross body practicalities are delivered in the ARTO and KOUROU shoulder bag styles. Stylish with a smart-casual feel, and designed with leisure in mind. Light and roomy with added zipped compartments, both bags include handy key clips and the iconic Kipling monkey. Adjustable straps promote comfort and style suited to cross body styling or over the shoulder throwing.
Tote silhouettes HOONGRY and URBANA are cool, contemporary and functional with utilitarian appeal. Organisation at its finest, the HOONGRY bag fits A4 documentation with handy top handles or straps for shoulder use; a feature that helps you adapt seamlessly for different occasions. Zipped compartment and two open pockets. Large and roomy, the URBANA slouchy tote is modern and versatile with a zipped compartment and top handles or comfortable strap.
The refined ADIMUS backpack encapsulates both smart and casual elements with a lightweight, water-repellent finish for added durability. Current, urban and roomy, the bag has pockets for everyday essentials. With a top handle for carrying or adjustable straps for wearing, it's the perfect pick me up.
The CREATIVITY L provides on-the-go organisation by helping you store all your most important possessions. Practical pouches for smaller belongings fit into three storage compartments with ease. For larger adventures the ART M is your go-to companion. Whether it's trips to the gym or global travels, the large bag can be adjusted into three different shapes and sizes with its movable corners. Lightweight fabric and durable with chunky zippers, all practicalities have been considered. Designed with travel in mind, this perfect weekend bag is fitted with practical trolley sleeve to fit suitcase handles.
ABOUT KIPLING
At 31 years young, Kipling was founded in Antwerp, in 1987 and is now sold in 68 countries across the globe. Every bag comes with its own monkey mascot, each one named after a Kipling employee from around the world. Famous for providing stylish and beautiful bags for every occasion, a Kipling bag is sold every two seconds, somewhere in the world – that's a lot of bags!